October 4, 2019
Which is right for me: DIY Security Systems (Like SimpliSafe/Ring) vs Professionally Installed Systems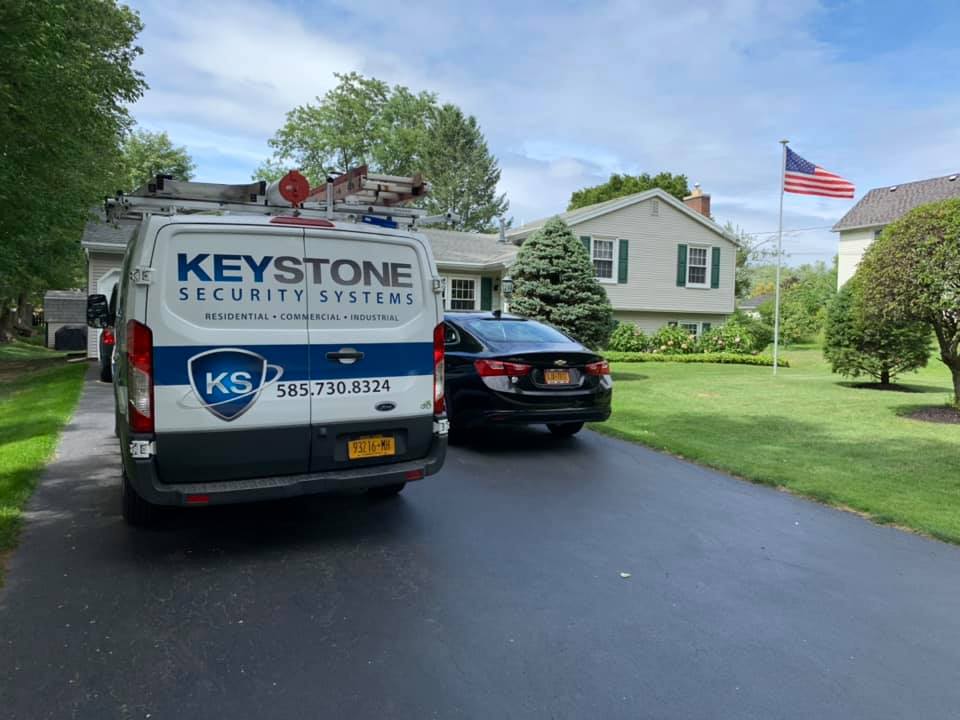 Congratulations! You're on the right path to finding a home security system that has all the bells and whistles you want and won't cost you a fortune. There is a lot to consider, and you've probably started asking friends (or maybe Google) questions like…
"What are my options for security cameras?"
"Which cameras are the most reliable?"
"How complicated is the installation?"
"I'm pretty handy, so could I just do it myself?"
We've been doing this security thing for over 30 years! and our goal is to help demystify all the options out there so you can make the most informed decision about home security products. Read along to see a breakdown of the two most popular options on the market today: do-it-yourself home security and professional home security.
DIY Home Security
The do-it-yourself (or DIY) option allows you to take home security into your own hands. DIY security products are readily available and can be purchased locally in big-box stores, or online. A DIY system requires you to do just that – purchase, install, learn how to use and monitor it yourself. You'll bypass installation, monthly monitoring fees, and having to sign a contract, but you will have to physically install the camera, motion detectors, door sensors, and any other devices you want part of your security system.
Most DIY options claim that you can open the box with all your equipment and have a new security system up and running in your home within an hour.
This all sounds great but be warned. Based on a study by the Parks Association, it takes the average person 4.8 hours to install a system without professional help.
Many DIY installation guides are complex, and this could have you wondering if you installed the security system properly. Without the help of a trained professional, motion detectors could lead to false alarms every time light passes through a room or when air pressure changes in your home.
With the self-monitored DIY option, you'll receive smartphone notifications when doors open or when motion is detected, but only you see these alerts.
Now imagine all the times when you're sleeping, showering, in a meeting, at the gym, your phone's battery almost dead, or you have spotty service. How will you be able to protect your home in these instances? Simply put, you won't be able to. And because you're the master behind monitoring mobile alerts and verifying emergencies, this also means if an emergency happens, you're in charge of contacting the authorities. And what about driving home to check out the door alarm? Are you prepared to rush home speeding and possibly getting into an accident or pulled over by the police for speeding?
After The Purchase
And when something doesn't work, you have to call their technical support number and "fix" it yourself. Sometimes you can be on the phone for hours and when a part is needed you have to wait for that part to come from the company like Ring. In the meantime, your alarm may not be usable.
The Professional Option
With a professionally installed and monitored home security system, trained professionals design a custom system that fits your needs, install the equipment, monitor your home 24/7/365 and provide technical support after the installation.
On the day of installation, you'll be able to sit back and relax! The licensed and certified technician will come to your home to install the security system, test it to make sure it's working properly, train you on how to use it and teach you best practices for getting the most out of home security. Depending on the complexity and size of your system, installation can take as little as an hour or two (and may take less time than DIY options like SimpliSafe or Ring.
After the installation
When something does break, you just call the security company (like Keystone) and we come out to fix the problem, same day! No dealing with an annoying call center. Just sit back and let us do the repair.
This type of alarm system comes in handy when you're away from your phone and miss a notification. You can continue living your busy life knowing that when an alarm does go off, the security company will call the police or fire department for you!
While professional home security companies require new customers to sign a contract, they are there to assure certified alarm operators will monitor your home for alerts 24/7/365.
If you were to choose to work with Keystone Security, contracts come with a lifetime guarantee, meaning free service calls when something goes wrong with your system. You can also count on faster response times with first responders, thanks to a our monitoring center.
Now that you know more about DIY and professional home security, consider these three important points before making a final decision:
Decide how much you're willing to spend on home security; make a budget.
Is it important for your home to be monitored 24/7/365?
How long do you plan to stay in your current home?
Am I a candidate for DIY Home Security?
If you plan on moving soon, think having your home monitored 24/7/365 isn't necessary, or you're only interested in a couple of indoor security cameras or a video doorbell, DIY security might be your best choice. Still not so sure? As an added plus, most DIY home security companies offer a satisfaction guarantee, so you'll have time to decide if it fits your needs and have the option to return the equipment to get your money back.
Is a Professionally-Installed and Monitored Home Security System right for me?
If you want monitored protection 24/7/365, plan on staying in your home a few years (or more) or feel uneasy installing a security system and then figuring out how to use it, working with a professional home security company is your best bet. With this option, you'll have live operators available to help you when you need it and have reliable protection at all hours of the day and night.
A Professionally Monitored System with Keystone Security Systems
At Keystone, we combine the benefits of DIY and traditional home security. Most of our systems are installed for free and include the Remote App so you can view cameras and arm your home using your phone. Thanks to our 24/7 monitoring center, we also have your back 24/7/365! And if a camera or another piece of your system breaks, know that a certified technician can fix any issue same day at no extra charge.
Call us today and we will help guide you in making the correct decision for you!